General Retreat – Mangal Jivan
2nd October 2021 @ 5:00 pm

-

8th October 2021 @ 10:00 am

₹2000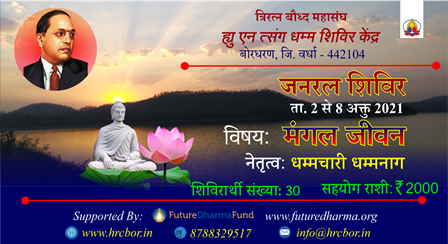 Residential Retreat organized at Hsuen Tsang Retreat Centre, Bordharan on the Topic "Mangal Jivan".This retreat will lead by Dhammachari Dhammanag. This is the basic and important teaching of the Buddha. Women and Men can be participate in this retreat.
" मंगल जीवन " इस विषय पर ह्यु एन त्संग धम्मशिविर केंद्र, बोरधरण, जि.वर्धा यहा निवासी शिविर आयोजन किया गया है। इस शिविर का नेतृत्व धम्मचारी धम्मनाग करेंगे। यह बुद्ध की मूलभूत और महत्वपूर्ण शिक्षा है। मनुष्य जीवन में क्या मंगल है इसके लिए बुद्ध ने श्रावस्ती में अनाथपिंडक के जेतवनाराम में उपदेश दिया है। इस शिविर में महिला और पुरुष सहभाग ले सकते है।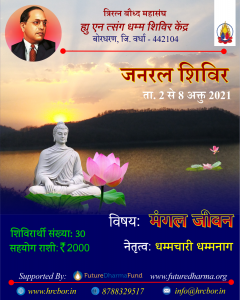 Subject: Mangal Jivan
Lead By: Dh. Dhammanag
Date: 2 to 8 Oct 2021
Participant Type: Open for all
Age Group: Above 18 Years
Intake: 30 Participants
Fees: ₹ 2000
————————————————————————————————————————————-
*महत्वपूर्ण सुचना
प्रतिभागियों को शिविर के आरंभ और समाप्ति समय का सख्ती से पालन करना होगा।  देर से आगमन और जल्दी प्रस्थान की अनुमति नहीं होगी।
लगभग सभी शिविरों के लिए प्रतिभागियों को रिसेप्शन पर अपने फोन जमा करने होंगे। शिविर के अंत में उनके फोन वापस कर दिए जाएंगे।
प्रतिभागियों से एक टॉर्च, कलाई घड़ी, छाता और पानी की बोतल साथ ले आने का अनुरोध किया जाता है।
यदि प्रतिभागियों को कोई गंभीर बीमारी है या यदि उनका कोई मनोरोग उपचार चल रहा है तो उन्हें हमें पहले से ही सूचित करना होगा।
प्रतिभागियों को कार्यक्रम के अंत तक परिसर से बाहर जाने की अनुमति नहीं दी जाएगी।
सभी शिविर अपने शुरुआती दिन की शाम को शुरू होते हैं और समाप्त होने वाले दिन की सुबह समाप्त होते हैं, जब तक कि एक अलग समय का उल्लेख नहीं किया जाता है।
---
For Registration please fill the form below:
बुकिंग करने के लिए निचे दिए फॉर्म को भरे:
General  Retreat Guidelines 
Please note the following guidelines to be followed in all HRC's retreats and conventions.
Booking Amount 50% of the fees to be paid well in advance for confirmation.
Fees/Booking Amount once paid will not be refundable and will be considered as donation for the centre if registration cancelled.
Intake Limit: as decided
Age Limit: as mentioned
Basic language: English, Hindi, Marathi
Accommodation:

Decent accommodation will be provided.
Separate living arrangements for male and female participants.
Beds will be provided at retreat centre.
Please bring your own Blankets n bed-sheets.

Food Facilities:

Veg Breakfast, lunch and dinner will be provided.
For any special diet on medical condition please mention during registration.

Please bring your own Medication, Personal toiletries and health-care products as necessary.
For the health and comfort of all participants, smoking, drugs, alcohol or other intoxicants are strictly not permitted.
Mobiles strictly not allowed during the retreat period and will have to be submitted to the management till last day evening.
Participants are requested to follow all essential rules set by the organizing committee for safety & togetherness throughout the sessions.